From New York to L.A. is now available in bookstores, V&D and de Bijenkorf in Holland.
Want to know more? Dutchies can listen to the interview Dree did about the book at Business News Radio, or read the synopsis on the publisher's site. Ready to make that smart move?
Order your copy (currently only available in Dutch, but working on it!) at Bol.com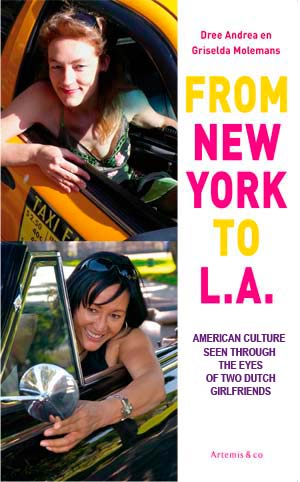 Their humorous and dead-on observations and exciting and painful experiences give the reader a great insight in what living in these two metropolises is really all about.
– Esta Magazine, January 2008

In From New York to L.A. Dree Andrea and Griselda Molemans, two European residents of New York City and L.A, enthusiastically set out on a world tour in their own cities. They discover the hidden secrets that anyone who refuses to look beyond the cliche's about America will forever miss out on.
It's not all fun and games but the trials and tribulations they encounter whilst searching for places to live, making new friends, discovering the latest fashion trends and examining the meaning of life, are certainly valuable education. Always looking beyond the obvious they discover many precious pearls in the Ocean of Big City Madness.
The culture shocks that they face on a daily basis stress them out just as much as they make them laugh. At the beginning of their journey they may have thought cultural clashes were exclusive to Europe and America – they now know better. The biggest cultural gaps are found within the USA whilst traveling from New York to L.A. and from Harlem to Hollywood.
Andrea and Molemans do take themselves seriously – but often with quite a few grains of salt. Their Dutch 'down-to-earth-approach' is undoubtedly the tool in their survival kit that makes exploring the good and bad in the concrete jungle that is American consumerism a fun trip.
At the end of each chapter in the book the readers can find special tips and information that will help them become 'insiders' on their future travels to New York and L.A.