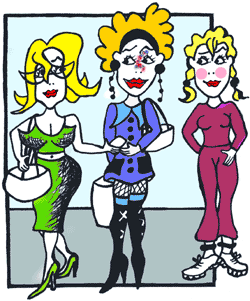 Standing next to a tall sophisticated woman on the corner of 5th Avenue and 59th Street, I was waiting for the light to change. A perky blond woman in her fifties walked up to us. She addressed the stranger next to me.
Excuse me, I hope you don't mind me asking. Who did your nose? It's absolutely stunning!! Gorgeous!"My Dutch upbringing perceived this as an incredible rude question. I kind of expected a small catfight to break out. Maybe even leading to an arrest. Things have a way of heating up fast in New York. I looked at them more closely. Both were dressed in designer names – from head to toe. For a moment my eyes got lost in the décolleté of the perky blond woman in the Valentino skirt. Then, afraid to get caught in such unacceptable behavior, I quickly looked up at the slightly younger woman next to her in the Dolce & Cabbana suit. She looked like she had just participated in a boxing match.
Someone else in her position might have avoided getting outside all together. Or would at least have gone out wearing some kind of bandage. Not this woman. She was parading around with a black and blue nose as if it was an art object that she felt compelled to show to the world. I could see where, once the swelling got down, it would be a perfect nose. Petite, pointy, charming. It would go very well with the suit. Eventually. The nose was decorated with little black stripes – stitches no doubt. Applied by someone with an impeccable taste for design, I thought.
"I don't mind you asking at all!" she answered. "In fact, I have my doctor's business card right here if you're interested."
The Dolce & Gabbana suit enthusiastically took a dive into her Versace bag, pulled out a business card, and handed it over. As the light changed and they started crossing the street together, I heard the Valentino skirt bring up her new triple E.
That's what I love about New York. I may have stated in my documentary films how hard it is to connect here. How difficult it is to develop real friendships. How there's so much hidden loneliness in this city. And that's all true in most cases. But every now and then I witness an exception to the rule. It can be this easy. Valentino shirt and Dolce & Gabbana suit will be friends for life. I just know it.