It's like watching Nip/Tuck. You don't really want anyone to know. And I'm certainly not proud of it. Yet I can no longer deny you the pleasure and convenience. Especially if you are a one-man band. I just have to let you in on this.
I graduated as a chef so I should be firing up my cuisenart and vega-blend my heart out. Which I often do! But when I'm alone and I have to whip up something really great really quick, I cheat on those loved ones. With my magic bullet.
If you want to make a lasting impression on a vegan, try this for a creamy tongue-tickling experience.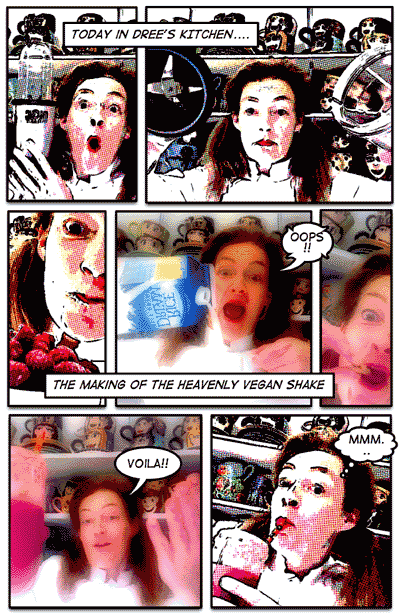 HEAVENLY VEGAN SHAKE
Ingredients (all organic please!):
1 cup rice milk
1 cup frozen raspberries
1/2 cup raw walnuts
1/2 cup pomgranate juice
Procedure:
1. Fill your bullet cup with raspberries, rice milk, pomgranate juice and walnuts.
2. Screw on bullet blender lid.
3. Turn cup with lid around and screw on bullet base. Twist to start blending. Blend for 45 seconds. Take off the base, turn back around and unscrew the blender lit.
4. Screw on the colored ring that comes with your bullet if you like to make your glass look pretty. Pop in a straw and you're ready to enjoy!
Optional:
For those of you with a sweet tooth – add some agave syrup or 1/2 banana. Use any old blender – but it won't make it as creamy (Why? Beats me! It must be that good old bullet magic!)
Dree tip:
Freeze rice milk in cubes in your freezer. Instead of the rice milk – use those. Freeze that optional banana too! Your shake will have more of an icy texture.
Wanna get your own bullet?